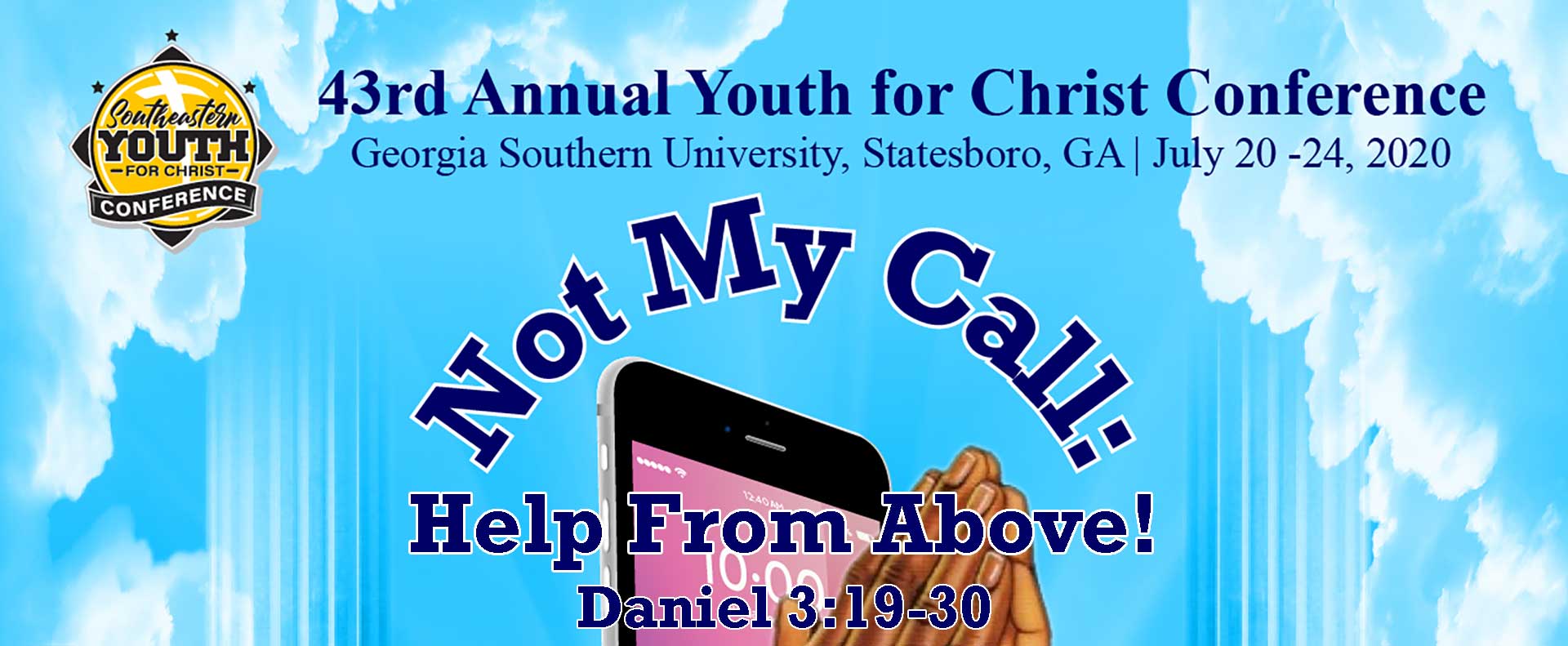 Registration Cost
$50 Deposit Due by May 31, 2020 (non-refundable)
Under 5 years – Separate Bed –  $125
Under 5 years – Sharing Bed with Parent – $50
6-12 years – $280
13-17 years – $300
18 years and Older – $325
Commuter Info:
Under 5 years – $100
6-12 years – $120
13-17 years – $140
18 years and Older – $175
**No lodging or meals provided for commuters**
We encourage everyone to register as soon as possible.
All registration ends on June 30, 2020
REGISTER ONLINE
Personal checks will not be accepted.
Need Additional Information?
Please Contact:
Harold Gilmore – 256-355-0836
Arthur Medlock – 229-439-0451
Teachers may contact (regarding curriculum):
Jefferson Caruthers – 336-624-3092
Bible Bowl 2020
Ages 6-9  —  Joshua 1-5
Ages 10-12  —  Joshua 6-10
Ages 13-16  —  Colossians 1-4
Ages 17-21  —  Luke 11-15
Send Mail to:
YFCC
PO Box 685
Valdosta, GA 31603
Important Downloads
YFCC General Guidelines Packet
Medical Release
Daily Schedule
Art Competition Guidelines
Athletic Competitions Guidelines – Download includes athletic registration information and rules for basketball, track, and volleyball.
Drama Competition Guidelines
Speech Competition Guidelines
Spelling Competition Guidelines

CLICK to Download Guide for Grades 1-3
CLICK to Download Guide for Grades 4-6
CLICK to Download Guide for Grades 7-9
CLICK to Download Guidelines and Lists

Fashion Show
F.A.I.T.H. Scholarship Foundation

This scholarship is being made available to participants in the Annual Youth for Christ Conference by a separate non-profit foundation. The purpose of this scholarship is to provide financial assistance to young men who wish to pursue academic training to better equip them for the ministry and work of an evangelist.
Deadline to apply is June 13th, 2020

Walter Cox, Jr. Memorial Scholarship

The purpose of the scholarship is to recognize students who have demonstrated a devotion to and have been active in Church affairs and demonstrated a desire to further their education.
Deadline to apply is July 1, 2020
We encourage everyone to register as soon as possible.
All registration ends on June 30, 2020.
Personal checks will not be accepted.
GSU Non-Student Minors on Campus Policy
Bed Linen Services
Bed Linen Services will be available again this year. You may purchase these services on a "first come first serve" basis for $20. The dorm will not be able to accommodate all of our guests with this service so, after the first 300 people have purchased the service, the option will no longer appear on the merchandise page during your registration session online.
If this option does not appear as a selection choice during the registration process, it is NOT available. In this case, you will have to bring your own linen.
Lost Key Charges
Lost key charges will be assessed at check-out as locks will be changed for all lost keys immediately after check-out. The charge for a lost room key ranges from $150-$250 per key (Key charges vary per room type and residence hall. We will be staying at Centennial Place). The charge for a lost FOB is $50/fob. Fobs are required to access the dorm through the main entrance. Charges for lost items must be cleared before leaving campus!
Meal Cards
This year's conference will feature meal cards. Meal cards will only be issued to Group Leaders who will then distribute those cards to those in their group. Meal cards can be ordered through the registration portal and are $1 each. The card can only be used at Dining Commons for dinner on Monday; for breakfast, lunch and dinner, Tuesday through Thursday and for breakfast on Friday.
All cards must be returned at check out. Any unreturned meal cards will result in a $10 charge per card.
Parking Passes
Parking passes for vehicles will be provided at no additional cost.
Check-in
The check-in desk will be in the Centennial Place Dormitory (Building # 2) on the Georgia Southern University campus. Check-in begins at 8:00 am, Monday, July 15, 2018. Only those who are conducting the business of checking in are allowed in the check-in area. Two or three representatives from each congregation should be sufficient to carry out this task.
There is no onsite registration. Registration ends on June 30th and all account balances should be settled and cleared before arriving at the conference. There will be no refunds for "no-shows". Once your account balance has been verified as paid, you can proceed to the other stations to pick up your dorm keys, ID badges, meal cards, Tee shirts, and backpacks.
Medical Forms
Medical forms should be mailed, faxed or emailed to the appropriate address prior to your arrival. The conference email address is youthforchrist82@yahoo.com. Forms are available on this website. Click on the "Important Downloads" tab and chose the "Campus Life" link.
Background Checks
It is strongly encouraged that chaperones and staff of groups having minor participants undergo background checks as well as training on appropriate interactions with minors.
University Rules and Policies
Failure of participants to comply with these laws, regulations or policies may result in forfeiture of the privilege of using university facilities and expulsion from campus. University regulations and policies include but are not limited to the following:
No smoking will be permitted in any room or apartment or in any university buildings.
No firearms, weapons, ammunition, fireworks, explosives or highly flammable materials will be permitted within university buildings or on university property.
No animals will be permitted in rooms or apartments or in Owner's buildings.
No hot plates or other cooking appliances will be permitted in rooms or apartments. Cooking may be allowed in kitchen areas only.
No remodeling or renovating of rooms or furniture will be permitted, including but not limited to tampering with the electrical or mechanical fixtures, placement of antennas or appliances out of the windows, removal of or addition of furniture, lowering of lofted beds without permission of the university.
No alterations whatsoever of the rooms or apartments will be permitted, including attaching any object by adhesives, nail or screw without permission of the university.
No tampering with or removal of windows or window screens from any part of any building will be permitted.
No tampering with the fire system or fire-fighting equipment will be permitted.
No removal of lounge or common area furniture into individual rooms or apartments will be permitted without permission of the university.
No gambling or solicitation in any form will be permitted.
No parking in the service or fire lanes adjacent to Owner's buildings will be permitted.
© Copyright 2022 SouthEastern Regional Lectureship. All Rights Reserved.